So let's see what kind of news we wrote in July 1999. I would like to remind you, our readers, that at the time, AfterDawn was strictly focused on digital audio and video technologies and the reporting of events in these. genres. A more generic "all about the tech" came to our site much later.

Software Update: Winamp
One of our main hot areas at the time was reporting on major AV software updates. And one of the most remarkable of them was certainly Winamp and its update Winamp v2.24 in July 1999.
At the time, Winamp was – by far – the most popular music player software in the world. It was lightweight, supported all of the music formats available at the time, and most importantly, it was extremely customizable.
But Winamp's story from those holiday days to modern times has been bumpy, interesting – and a little sad. The software was originally developed by a small company called Nullsoft and, originally, by its founder, Justin frankel. Entire Nullsoft has been sold to AOL in early June 1999 – just before the launch of AfterDawn – for a whopping $ 400 million.
Here, it must be remembered that AOL was at the time an Internet giant. Besides their own remote access service, they also controlled a lot of the online content and were really on the same level as, say, Google is in the modern online world.
After the acquisition, AOL devoted money and resources to the development of Winamp, and the software got better and better over the next year. But as the dot-com crash struck, AOL quickly experienced serious financial problems. And yes, these issues affected Nullsoft as well. Plus, AOL never really managed to squeeze money out of Winamp – at least not in a way that would have justified the initial purchase price of $ 400 million.
Thus, AOL stopped contributing resources to the Winamp project, hampering its development. After Nullsoft lost its status with AOL, many members of the original Nullsoft team began to leave the company. In 2003, original founder Justin Frankel was still working for AOL / Nullsoft, but when he released his own file-sharing app, called WASTE, without AOL's permission, the link was broken. File sharing was a taboo term at the time, with the music industry still battling the tech world – and AOL trying to start its own content business, which also included online music services. Eventually Frankel left the company in early 2004.
After all of the original developers disappeared, development for Winamp slowed down and practically died out over the next decade. Finally, in 2013, AOL announced that it would officially stop the Winamp development process and stop offering Winamp downloads.
Years have passed, but after a series of acquisitions, mergers and various other twists and turns, Winamp has found a new home in the Belgian streaming company, Radionomy. Radionomy restarted the development of Winamp and released the first new version for ages in the fall of 2018.
For now, this version – Winamp v5.8 beta – is still the last version available. But Radionomy has publicly announced its intention to release Winamp v6 in 2019.
20 years later, the need for MP3 player software has all but disappeared as online music services have taken over. You could say that Spotify now commands the same type of status among music players as Winamp once did.
Acquisition: Customize.org
It is very difficult to explain to children nowadays how important the use of a PC was, namely the possibility of personalizing your tools and software on a daily basis, in the late 90s.
But man, it was. Many people chose their Windows software based on how easy it was to customize its appearance. And by that, it wasn't about being able to choose between a "dark theme" and a "light theme", but rather being able to redesign the entire user interface to suit your personal taste.
In this area, Winamp was the king. The small MP3 player allowed people to customize its entire design. And people did. So-called "skins", theme packs for Winamp, were widely available – thousands, if not tens of thousands of them.
And yes, they were so popular that there were several websites that just focused on distributing ready-made skins for Winamp. (and other applications).
Black Dawn v1.1 – one of the official Winamp skins from AfterDawn at the time
The largest of these sites was called Cuztomize.org. And one of our news from July 1999 was how Customize.org was sold to a company called Rare medium group.
20 years is a long, long time. And for now, Customize.org is not working. It just displays the default PHP test page when you access the site. But according to archive.org, the site managed to hold its own until 2018, still focusing on custom themes for software and desktops.
Software update: Sonic
To give the story of customization another angle, we can't ignore Winamp's most important rival, Sonic. We reported the update of this MP3 player to Sonique v1.05 in July 1999.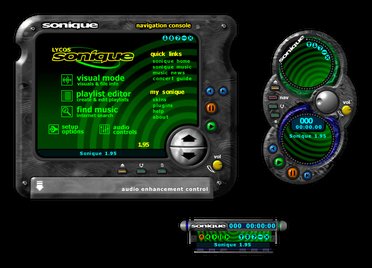 Sonic v1.95, with its default look
And why is Sonic worth mentioning? As noted, the era of the late 1990s was also the era of desktop personalization, with software developers allowing, if not encouraging, users to customize their tools. And in that regard, Sonique was the best dog. Of course, Winamp et al allowed users to change all player graphics and visuals, but Sonique went one step further: even the shape of the player could be completely customized. Yes, if you wanted to have a circular MP3 player you could have it – and it would work great in the Windows operating system. This level of app customization is quite rare even 20 years later.
We believe deep customization was one of the key things Sonique quickly became Winamp's number one competitor. And just like Winamp, Sonique was also bought out by a (then) Internet giant. Lycos, one of the leading internet companies at the time (their search engine was one of the most popular) bought Sonique shortly after its release for $ 38.8 million.
And, again, just like with Winamp, the story got sad pretty quickly. Lycos itself was bought out by Terra Networks in the early 2000s, just before the dot-com bubble burst. And once the bubble burst, the merged company was in deep trouble and had to lay off almost all of Sonique's developers in mid-2001.
Unlike Winamp, Sonique was unsuccessful. The developers of TerraLycos produced a handful of public beta versions of Sonique 2, but the last official stable release was the 2001 version of Sonique v1.96. And yes, you can download it from the software section of AfterDawn and see if it works with modern Windows or not 🙂
AfterDawn in July 1999
Sadly, part of our recorded history has been lost over the past 20 years. The very first months of AfterDawn's history have been erased somewhat: we have nowhere our usage statistics from those precious first months. But to sum up, our site was slowly focusing and gaining ground.
But to be fair, the traffic we got back then had to be something that today could be achieved with a modestly popular blog. Our ambitions were much higher than that, of course. Having built a website that wasn't just about news articles, but more about "everything we cover" including software downloads, guides, tips and tricks and more.
And we were kind of right – after all, most of the companies and technologies we covered at the time are gone. But our site is still working. Of course, the ride wasn't that smooth, but, damn it, it was interesting nonetheless. And yes, our children have also reached adulthood.
Yes, a lot of other things happened in July 1999 too: MP3.com IPO, plethora of new portable MP3 players (physical devices), etc. If you are curious to know more, visit our archives for 07/1999.
And if you're interested, the previous flashback article can be found here:
What happened in the technological news in June 1999